NIC Nursing program celebrates 32 graduates
Posted: Thursday, May 25, 2023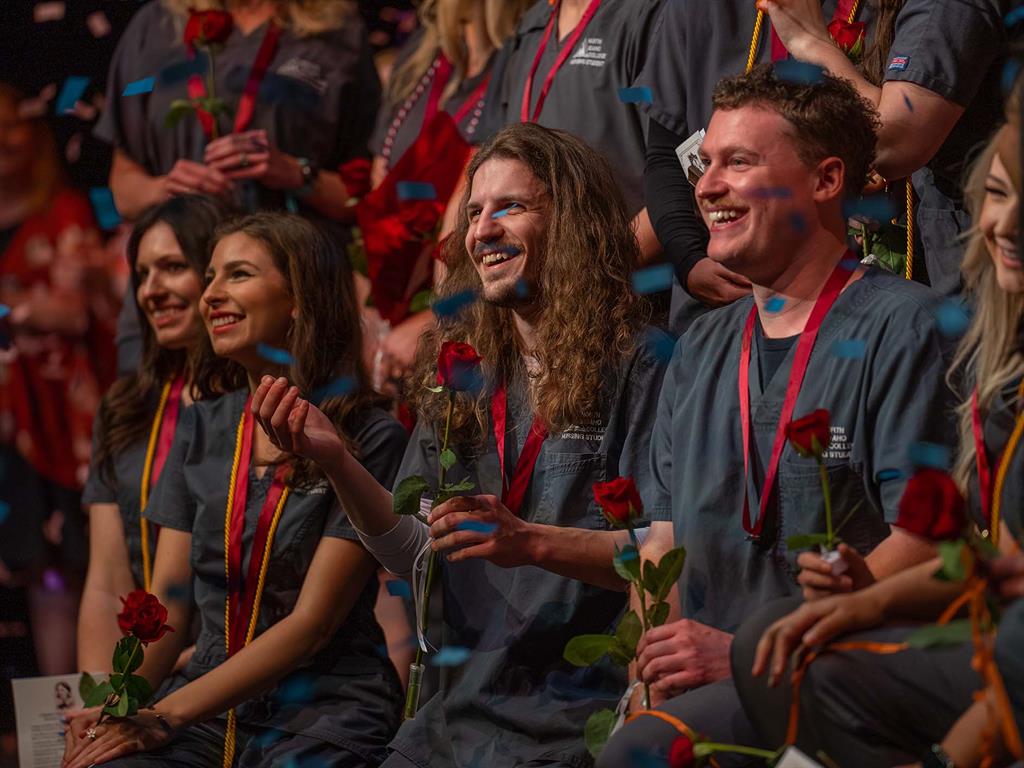 North Idaho College celebrated the graduation of 32 students from the NIC Nursing program in a pinning ceremony Wednesday, May 10 in Boswell Hall Schuler Performing Arts Center on NIC's Coeur d'Alene campus. 
Family and friends flooded Boswell Hall to praise graduates for their excellence in the classroom, as well as their perseverance through the COVID-19 pandemic.
NIC Associate Dean of Nursing and Health Professions Erlene Pickett said the nursing class at NIC scored exceptionally well on the National Council Licensure Examination, a nationwide exam for the licensing of nurses in the U.S., Canada and Australia. NIC nursing students completed the exam with a pass rate of 97.5%, which is more than 17% higher than the national pass rate for students in associate degree nursing programs.
"You are among the best in the state," NIC President Nick Swayne said. "You are well prepared, have a lot of confidence and will give the best care possible to our community."
The pass rate was also commended by the nursing program's accrediting body, the Accreditation Commission for Education in Nursing, in its May 5 letter notifying NIC of continued programmatic accreditation for a full eight-year cycle to be reevaluated in 2030.
Pickett said graduates should expect a bright future that should also be a unique and challenging experience, as they enter a profession experiencing an unprecedented shortage.
"This has created an exciting time," Pickett said. "Employers who had positions that were not usually open to new graduates are now begging you to apply."
Graduate Nicole Gfeller of Hayden said while her journey through the program felt strenuous, the bonds she made in the classroom helped get her to graduation.
"It's helpful to just have someone going through the same thing as you," Gfeller said. "Having support from family and friends is good, but having friends in the same situation as you make it a much better experience."
For more information, contact NIC Associate Dean of Nursing and Health Professions Erlene Pickett at Erlene.Pickett@nic.edu or (208) 769-3278.
Return to Newsroom