NIC celebrates 18 nursing graduates
Posted: Tuesday, Jul 18, 2023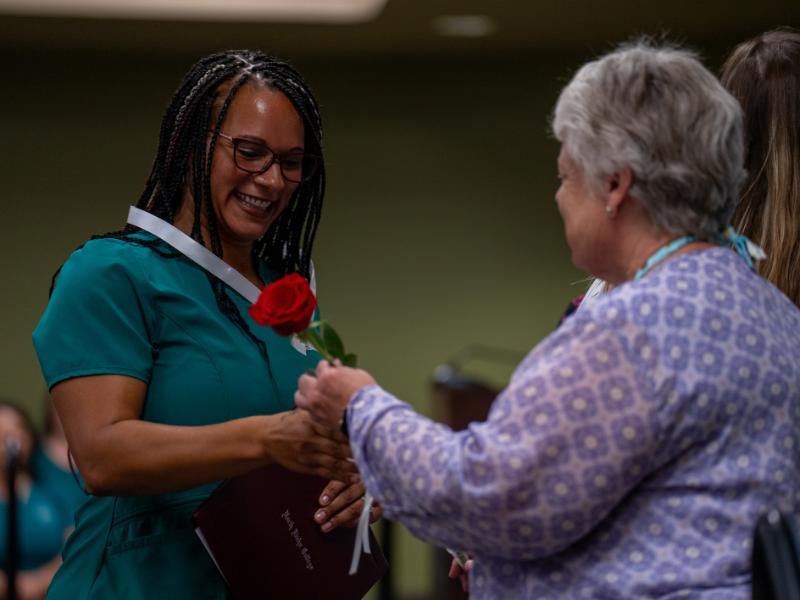 North Idaho College celebrated the graduation of 18 practical nursing students in a pinning ceremony on Monday, July 10 at the Edminster Student Union Building on NIC's Coeur d'Alene campus.
The ceremony featured speeches from NIC instructors and graduates, NIC Associate Dean of Nursing and Health Professions Erlene Pickett and NIC President Nick Swayne. Students were commended for their dedication and patience, as well as their ability to adapt and exceed the expectations of their instructors. "You're going to be well-prepared and you're going to be able to do everything you need to do, probably better than your peers," Swayne said. "That's a testament to all the faculty and staff, as well as all the folks that support the program."
The 11-month program prepares students for employment as practical nurses at hospitals, urgent care clinics, physician offices, home health care and long-term facilities. "The growth of our class was tremendous over the past year," NIC nursing graduate Kimberlie Harvey of Spokane said. "I'm very proud of us." NIC Nursing Instructor Brittany Heidenreich challenged the graduates to keep learning and to help pass on their knowledge to the next generation.
"If we all continue to strive to be better, we will be better for our communities," Heidenreich said. For more information, contact NIC Associate Dean of Nursing and Health Professions Erlene Pickett at Erlene.Pickett@nic.edu or (208) 769-3278.
Return to Newsroom