---
HOME ◉ ABOUT ◉ COMMITTEE ROSTER ◉ GUIDE ◉ NOMINEES ◉ PAST READS
---
Selection Process

A new common read title is selected every two years in support of the Diversity Council's common theme. At the conclusion of the first year of a common read, the Cardinal Reads committee solicits book suggestions from the NIC community that align with the common theme purpose and outcomes. The committee then reviews and scores each title using a rubric. Review copies of the four highest scoring titles are secured from the publishers (if available) and read by the committee. The committee then repeats the scoring process using a second rubric and the highest scored title is selected as the next common read.
---
Nominated Titles
The committee received the following book nominations in support of the 2022-24 common theme, Common Ground: Strength, Resilience and Community.


---

American Dirt
by Jeanine Cummins
"

Lydia lives in Acapulco. She has a son, Luca, the love of her life, and a wonderful husband who is a journalist. And while cracks are beginning to show in Acapulco because of the cartels, Lydia's life is, by and large, fairly comfortable. But after her husband's tell-all profile of the newest drug lord is published, none of their lives will ever be the same. Forced to flee, Lydia and Luca find themselves joining the countless people trying to reach the United States. Lydia soon sees that everyone is running from something. But what exactly are they running to?

" -- Publisher's site
---

Book of Joy: Lasting Happiness in a Changing World
by Dalai Lama and Desmond Tutu
"From the beginning the book was envisioned as a three-layer birthday cake: their own stories and teachings about joy, the most recent findings in the science of deep happiness, and the daily practices that anchor their own emotional and spiritual lives. Both the Dalai Lama and Archbishop Tutu have been tested by great personal and national adversity, and here they share their personal stories of struggle and renewal. Now that they are both in their 80s, they especially want to spread the core message that to have joy yourself, you must bring joy to others." -- Publisher's site

---

Born a Crime: Stories From a South African Childhood
by Trevor Noah
"

Born a Crime

is the story of a mischievous young boy who grows into a restless young man as he struggles to find himself in a world where he was never supposed to exist. It is also the story of that young man's relationship with his fearless, rebellious, and fervently religious mother—his teammate, a woman determined to save her son from the cycle of poverty, violence, and abuse that would ultimately threaten her own life.

" -- Publisher's site


---

Braiding Sweetgrass: Indigenous Wisdom, Scientific Knowledge, and the Teaching of Plants
by Robin Wall Kimmerer
"Drawing on her life as an indigenous scientist, and as a woman, Kimmerer shows how other living beings―asters and goldenrod, strawberries and squash, salamanders, algae, and sweetgrass―offer us gifts and lessons, even if we've forgotten how to hear their voices. In reflections that range from the creation of Turtle Island to the forces that threaten its flourishing today, she circles toward a central argument: that the awakening of ecological consciousness requires the acknowledgment and celebration of our reciprocal relationship with the rest of the living world. For only when we can hear the languages of other beings will we be capable of understanding the generosity of the earth, and learn to give our own gifts in return." -- Publisher's site

---

Educated: A Memoir
by Tara Westover
"

Born to survivalists in the mountains of Idaho, Tara Westover was seventeen the first time she set foot in a classroom. Her family was so isolated from mainstream society that there was no one to ensure the children received an education, and no one to intervene when one of Tara's older brothers became violent. When another brother got himself into college, Tara decided to try a new kind of life. Her quest for knowledge transformed her, taking her over oceans and across continents, to Harvard and to Cambridge University. Only then would she wonder if she'd traveled too far, if there was still a way home.

" -- Publisher's site

---

A Girl Named Zippy: Growing Up Small in Mooreland, Indiana
by Haven Kimmel

"

When Haven Kimmel was born in 1965, Mooreland, Indiana, was a sleepy little hamlet of three hundred people. Nicknamed 'Zippy' for the way she would bolt around the house, this small girl was possessed of big eyes and even bigger ears. Laced with fine storytelling, sharp wit, dead-on observations, and moments of sheer joy, Haven Kimmel's straight-shooting portrait of her childhood gives us a heroine who is wonderfully sweet and sly as she navigates the quirky adult world that surrounds Zippy.

" -- Publisher's site

---

The Glass Castle: A Memoir
by Jeannette Walls
"

The Glass Castle

is a remarkable memoir of resilience and redemption, and a revelatory look into a family at once deeply dysfunctional and uniquely vibrant. When sober, Jeannette's brilliant and charismatic father captured his children's imagination, teaching them physics, geology, and how to embrace life fearlessly. But when he drank, he was dishonest and destructive. Her mother was a free spirit who abhorred the idea of domesticity and didn't want the responsibility of raising a family.

" -- Publisher's site

---

Lessons From the Least of These
by Robert L. Woodson, Sr.
"

From the lessons he has learned from witnessing the work of committed neighborhood leaders, Robert Woodson has gleaned ten fundamental principles that should be applied to uplift not only those who are at the bottom rung of society, but also people of means who experience the emptiness of life without meaning and purpose. Bob walks the reader through his discovery of each of these life-changing precepts and, along the way, we discover how each of us can experience new value in our lives and be empowered to contribute to our world.

" -- Publisher's site

---

The Marrow Thieves
by Cherie Dimaline
"

Humanity has nearly destroyed its world through global warming, but now an even greater evil lurks. The indigenous people of North America are being hunted and harvested for their bone marrow, which carries the key to recovering something the rest of the population has lost: the ability to dream. In this dark world, Frenchie and his companions struggle to survive as they make their way up north to the old lands. For now, survival means staying hidden - but what they don't know is that one of them holds the secret to defeating the marrow thieves.

" -- Publisher's site

---
The Night Watchman

by Louise Erdrich

"

In the

Night Watchman

, Louise Erdrich creates a fictional world populated with memorable characters who are forced to grapple with the worst and best impulses of human nature. Illuminating the loves and lives, the desires and ambitions of these characters with compassion, wit, and intelligence,

The Night Watchman

is a majestic work of fiction from this revered cultural treasure.

" -- Publisher's site

---

Notes From a Young Black Chef: A Memoir
by Kwame Onwuachi
"

In this inspirational memoir about the intersection of race, fame, and food, he shares the remarkable story of his culinary coming-of-age; a powerful, heartfelt, and shockingly honest account of chasing your dreams—even when they don't turn out as you expected.

" -- Publisher's site


---

The Painted Drum: A Novel
by Louise Erdrich

"
Compelling and unforgettable, Louise Erdrich's
Painted Drum
explores the often-fraught relationship between mothers and daughters, the strength of family, and the intricate rhythms of grief with all the grace, wit, and startling beauty that characterizes this acclaimed author's finest work.
" -- Publisher's site


---

The Power of Meaning: Finding Fulfillment in a World Obsessed with Happiness
by Emily Esfahani Smith

"To explore how we can craft lives of meaning, Emily Esfahani Smith synthesizes a kaleidoscopic array of sources—from psychologists, sociologists, philosophers, and neuroscientists to figures in literature and history such as George Eliot, Viktor Frankl, Aristotle, and the Buddha. Drawing on this research, Smith shows us how cultivating connections to others, identifying and working toward a purpose, telling stories about our place in the world, and seeking out mystery can immeasurably deepen our lives." -- Publisher's site

---

One Amazing Thing
by Chitra Divakarumi

"

When an earthquake rips through the afternoon lull, trapping these nine characters together, their focus first jolts to their collective struggle to survive. There's little food. The office begins to flood. Then, at a moment when the psychological and emotional stress seems nearly too much for them to bear, the young graduate student suggests that each tell a personal tale, 'one amazing thing' from their lives, which they have never told anyone before. And as their surprising stories of romance, marriage, family, political upheaval, and self-discovery unfold against the urgency of their life-or-death circumstances, the novel proves the transcendent power of stories and the meaningfulness of human expression itself.

" -- Publisher's site
---

Salvage the Bones
by Jesmyn Ward

"As the twelve days that make up the novel's framework yield to their dramatic conclusion, this unforgettable family--motherless children sacrificing for one another as they can, protecting and nurturing where love is scarce--pulls itself up to face another day. A big-hearted novel about familial love and community against all odds, and a wrenching look at the lonesome, brutal, and restrictive realities of rural poverty, Salvage the Bones is muscled with poetry, revelatory, and real." -- Publisher's site

---

Saving Us: A Climate Scientist's Case for Hope and Healing in a Divided World
by Katharine Hayhoe

"Drawing on interdisciplinary research and personal stories, Hayhoe shows that small conversations can have astonishing results. Saving Us leaves us with the tools to open a dialogue with your loved ones about how we all can play a role in pushing forward for change." -- Publisher's site


---

The Truth About Stories: A Native Narrative
by Thomas King

"Native novelist and scholar Thomas King explores how stories shape who we are and how we understand and interact with other people. From creation stories to personal experiences, historical anecdotes to social injustices, racist propaganda to works of contemporary Native literature, King probes Native culture's deep ties to storytelling." -- Publisher's site


---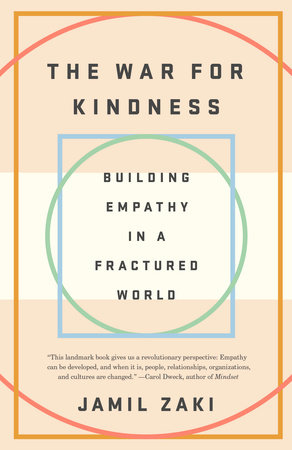 The War For Kindness: Building Empathy in a Fractured World
by Jamil Zaki

"In this groundbreaking book, Jamil Zaki shares cutting-edge research, including experiments from his own lab, showing that empathy is not a fixed trait—something we're born with or not—but rather a skill that can be strengthened through effort. He also tells the stories of people who embody this new perspective, fighting for kindness in the most difficult of circumstances. We meet a former neo-Nazi who is now helping to extract people from hate groups, ex-prisoners discussing novels with the judge who sentenced them, Washington police officers changing their culture to decrease violence among their ranks, and NICU nurses fine-tuning their empathy so that they don't succumb to burnout." -- Publisher's site

---

Weapons of Math Destruction
by Cathy O'Neil

"We live in the age of the algorithm. Increasingly, the decisions that affect our lives—where we go to school, whether we can get a job or a loan, how much we pay for health insurance—are being made not by humans, but by machines. In theory, this should lead to greater fairness: Everyone is judged according to the same rules. But as mathematician and data scientist Cathy O'Neil reveals, the mathematical models being used today are unregulated and uncontestable, even when they're wrong. Most troubling, they reinforce discrimination—propping up the lucky, punishing the downtrodden, and undermining our democracy in the process." -- Publisher's site.

---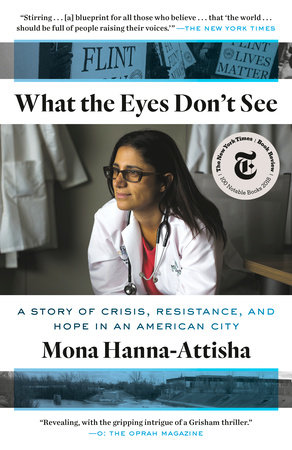 What the Eyes Don't See: A Story of Crisis, Resistance, and Hope in an American City
by Mona Hanna-Attisha

"Here is the inspiring story of how Dr. Mona Hanna-Attisha, alongside a team of researchers, parents, friends, and community leaders, discovered that the children of Flint, Michigan, were being exposed to lead in their tap water—and then battled her own government and a brutal backlash to expose that truth to the world. Paced like a scientific thriller, What the Eyes Don't See reveals how misguided austerity policies, broken democracy, and callous bureaucratic indifference placed an entire city at risk. And at the center of the story is Dr. Mona herself—an immigrant, doctor, scientist, and mother whose family's activist roots inspired her pursuit of justice." -- Publisher's site.

---

When Breath Becomes Air
by Paul Kalanithi
"Paul Kalanithi died in March 2015, while working on this book, yet his words live on as a guide and a gift to us all. What makes life worth living in the face of death? What do you do when the future, no longer a ladder toward your goals in life, flattens out into a perpetual present? What does it mean to have a child, to nurture a new life as another fades away? These are some of the questions Kalanithi wrestles with in this profoundly moving, exquisitely observed memoir." -- Publisher's site

---

Your Turn: How to be an Adult
by Julie Lythcott-Haims
"

A former Stanford dean of freshmen and undergraduate advising and author of the perennial bestseller

How to Raise an Adult

and of the lauded memoir

Real American

, Julie Lythcott-Haims has encountered hundreds of twenty-somethings (and thirty-somethings, too), who, faced with those markers, feel they're just playing the part of "adult," while struggling with anxiety, stress, and general unease. In

'Your Turn

', Julie offers compassion, personal experience, and practical strategies for living a more authentic adulthood, as well as inspiration through interviews with dozens of voices from the rich diversity of the human population who have successfully launched their adult lives.

" -- Publisher's site

---