The ASNIC Student Government serves to offer advocacy, transparency, inclusion and support to the student body of North Idaho College by serving as a bridge between students and administration (and the community). We foster a community that promotes academic excellence and lifelong learning, empowers student voices and ideas and creates an environment for campus engagement.
ASNIC (pronounced Az-nik) is an acronym for the Associated Students of North Idaho College. All currently registered students at North Idaho College are members of ASNIC. The ASNIC Student Government is made up of students elected by students to represent the Associated Students of North Idaho College - our entire NIC student body. Together we are ASNIC.
The ASNIC Student Government officers consist of a President, Vice President, and six Senators. Board meetings are held monthly on the fourth Tuesday of every month in the Student Union Building. Students, faculty and staff are welcome and encouraged to attend.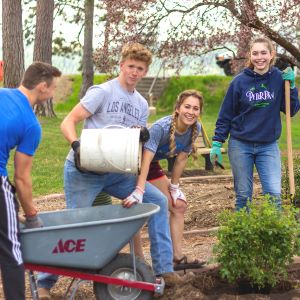 In 2021, NIC ASNIC Officers Hannah Neff and Jameson Wasson worked with Landscape Services and other students to bring some new life to the NIC Rose Garden for their student project.

The beautiful campus rose garden was created in 2007 as part of the college's larger Nine-Point Agreement for all to share in friendship and unity. The garden is divided into four sections and each includes a placard with historical information on various places of significance to the Coeur d'Alene Tribe.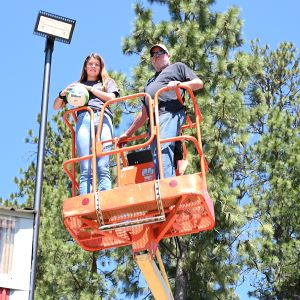 Jestine Lackner, 2020-2021 ASNIC Vice President, Resident Hall Advisor, and avid volleyball player, wanted to make a difference on campus. Last spring, after seeing one fellow student too many take a volleyball to the face while playing at the beach court in the evening, she knew what she wanted to do.

In the last week of the school year, her project goal became reality at the NIC Yap-Keehn-Um Beach. Jestine was on hand to watch as facilities crew installed the large LED lights that will light up the beach court for evening play.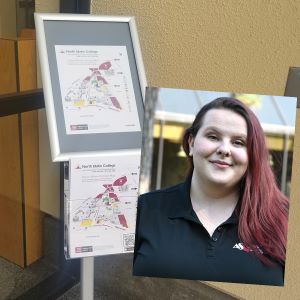 Kai Sedlmayer-Nardi, 2020-2021 ASNIC President, heard from peers that as a new student, finding campus classes during the first week of school was difficult.

After brainstorming and researching solutions, Kai found a campus department to print and distribute the maps in the future. In April 2021, she purchased the moveable stands to be placed around campus, working with the department to stock them with maps.

During the first week of school, the stands will be highly visible in entryways and walkways, making it easier for students to find their way.
What would you like to improve on our NIC campus?
Resources Supported by ASNIC
Scholarships
Crisis Relief Funds

Outdoor Pursuits – First trip program

ASNIC Club FAST Grants
ASNIC Student Events
St. ASNIC Christmas Giving Program