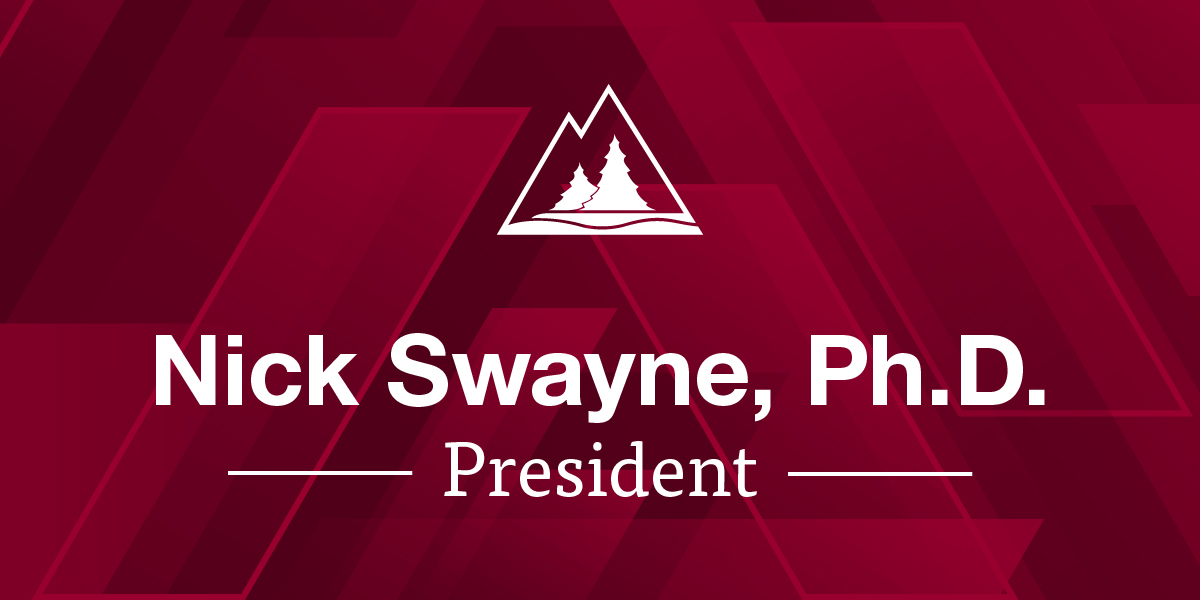 Tuesday, July 26, 2023
---
Previous Messages
NIC Students, Faculty and Staff:
As we start off the week, I wanted to check in to say thank you to all who make our campus community so special and resilient.
On Friday, we heard from the NWCCU that the college has retained its accreditation. Now that we know our accreditation status, we can take a well-deserved breath of relief before jumping right back into the work ahead to return to good standing with the NWCCU and long-term stability for our college.
College administration and employees will be working hard to move forward quickly and efficiently for the start of the Fall Semester on Aug. 21. More information will be shared throughout this week and regularly through the academic year via the Key Points campaign.
In the meantime, please send any questions you may have to communityrelations@nic.edu so we can understand your issues and concerns and work to address them.
Again, thank you for never losing faith in North Idaho College and for sticking with us through thick and thin for the benefit of all in our North Idaho community.
Nick Swayne
We received the NWCCU's decision this morning, and NIC remains accredited through a continuation of the show-cause sanction.
The NWCCU acknowledged significant improvement by NIC since the Commission's February 9, 2023 letter. There were 18 areas identified in that February letter, and six of those have been fully addressed. Of the 12 recommendations identified in today's letter, three have been noted as in substantial compliance. The remaining nine will require significant work. The college remains committed to addressing all concerns.
We are relying on our community for continued support as we make forward progress in the challenging work ahead.
NIC remains accredited. All courses are accredited, and all credits are transferable.
Enroll today, and join us on August 10 for our 90th anniversary celebration as we continue a legacy of lifelong learning for the North Idaho community.
I look forward to seeing you in Fall Semester.
Nick Swayne
North Idaho College employee community:
Our accreditation hearing with the NWCCU was held last Friday in Seattle, and while we don't have a result yet, I want to share with you our experience there.
Board Chair McKenzie, five senior leaders from administration, and I met with a room of about 30 or so commissioners. After giving my opening remarks, the primary commissioner asked about four general questions directed at the Board Chair and me. The secondary commissioner asked several questions specific to finances and one about HR. The team was well-prepared for all their questions. The commissioners contained their facial expressions and body language, so we really did not get any hint toward the outcome. It was tough to read the room.
Afterward, we were thanked for our time, preparation, and candid responses. The commissioners then met without us to discuss and make a decision. However, we were told we would not be given a hint about the decision until the end of the 30 days because the Commission would need that time to write, rewrite, and review the notification.
So, expect the final word to come out very near the 23rd of July (maybe the 21st, based on the weekend).
Until then, thank you for your continued outstanding support of our students and your work for North Idaho College. I wish you and your families all the best for the Independence Day holiday coming up.
Nick Swayne
North Idaho College Students and Employees:
Please plan to join your fellow students and employees for exclusive forums with the accreditation site visitors from the Northwest Commission on Colleges and Universities.
The employee forum is scheduled for Wednesday, April 26, and the student forum is scheduled for Thursday, April 27.
All students and employees are highly encouraged to attend these in-person sessions, and be sure to bring your NIC ID for entrance.
Nick Swayne, President
*Time and place information was shared with students and employees via email and omitted here, as forums are not open to the public.
Good morning NIC employees,
I'm pleased to be able to share with you that effective immediately, Lloyd Duman has rejoined the college temporarily in the role of Interim Provost. We hope to be able to post the position for a permanent provost in June or July following the response from NWCCU, but until then, Lloyd will be leading our instructional and student services operations. Additionally, the Athletics Program is once again under the leadership of Alex Harris.
Peggy Bradford and Jim Forkum are no longer with NIC.
Nick Swayne, President
Good morning NIC employees,
I am so pleased to be back on campus this morning, joining you all again in service to our students and community!
The employee appreciation lunch will be hosted today by your President's Cabinet and college leadership friends, from 11:30-1:00 in the SUB Dining Room. I would like to personally invite you all to join us, so that we can celebrate you and all you continue to do for NIC. I look forward to seeing you there.
Nick Swayne