State Authorization NC-SARA
A State Authorization Reciprocity Agreement (SARA) is an agreement among its member states, districts and U.S. territories that establishes comparable national standards for interstate offering of postsecondary distance-education courses and programs. It is intended to make it easier for students to take online courses offered by postsecondary institutions in a state other than the one where they reside. SARA is overseen by a national council and administered by four regional higher education compacts – Midwestern Higher Education Compact, New England Board of Higher Education, Southern Regional Education Board and Western Interstate Commission for Higher Education. The four SARA agreements of those compacts are collectively treated as a plural, the Agreements. NIC is a member of the National Council of State Authorization Reciprocity Agreements (NC-SARA). Please see the map below to view NC-SARA states.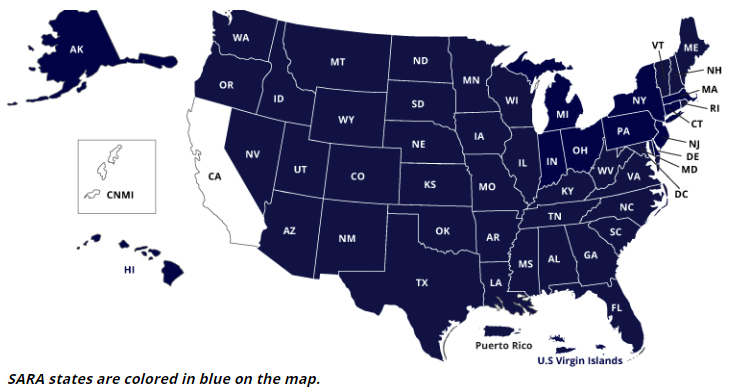 Resources
Licensure Disclosure
Each state and territory have different professional licensure or certification requirements. North Idaho College works to confirm whether programs meet the educational prerequisites for professional licensure or certification outside the state of Idaho.
Other licensure requirements may include professional examinations, background checks, years of work experience, fingerprinting requirements, etc. Students who are considering an academic program that may allow them to pursue professional licensure or certification in their state or territory are strongly encouraged to check their program's information below and contact the appropriate licensing agency to seek information and additional guidance before beginning a program outside of their state.
Potential changes in requirements
Licensure information is reviewed and updated on this site in July of each year. Students who plan to pursue licensure outside of Idaho should be aware that state licensure requirements are subject to changes. While a program may originally meet the educational requirements for licensure, changes in requirements could impact the program's ability to meet any new educational requirements. Students should always check with their state licensure board to confirm licensure requirements.
Important note on student location and relocating during the course of a program
The initial determination of student location will be based upon the permanent address indicated at the time of inquiry or enrollment. Prospective and current students should keep in mind that licensing and authorization requirements vary by state and that relocating during the course of a program to another state could impact whether that student can continue in the course and/or meet the eligibility requirements of that state.
Once admitted and enrolled, if a student is considering relocating, they should contact their program and seek guidance from the appropriate licensing agency in their field to check for authorization and licensure eligibility requirements. If a student changes their location, they must update their information in NIC's information system through MyNIC's Self Service.
Complaint Process for Idaho Approved SARA Institutions
Student grievances must exhaust the institution's dispute resolution process. All complaints regarding student grades or conduct violations are governed by the institution and the laws of the institution's home state.
If an NC-SARA student is not satisfied with the outcome of the institutional process, or if the issue is not resolved at the institutional level, the student may appeal to the Office of the State Board of Education. Appeals must be submitted no later than 30 calendar days after the student receives the institution's final decision on matter.
For more information, visit the Idaho State Board of Education Complaint Procedures.
For more information about NIC's complaint process, see the NIC Complaint and Appeals Resolution Process and our Registration, Cancellation and Refund Policy.
NIC Programs that May Lead to Licensure