Our Mission
North Idaho College's Veteran and Military Family Services Office is committed to supporting the unique needs of those who have served or are currently serving, as well as their dependents, in defining and achieving their educational, personal and career goals.
What We Do
We provide comprehensive advising and referral services to active and former military members, their dependents, prospective students and National Guard and Reserve members. Our services include assistance with navigating higher education processes and requirements and help enrolling in and understanding VA educational benefits. We also provide knowledgeable campus and community services referrals across all NIC campuses. The Veteran and Military Family Services staff is here to serve those who have served our nation and their families and to assist them in both a successful transition into college and productive experience through college.
What Kind of Student are You?
New Student Veteran - You have not used your VA benefit at any college or university.
New Veteran Dependent - You have not used your VA benefit at any college or university
GI Bill® is a registered trademark of the U.S. Department of Veterans Affairs (VA). More information about education benefits offered by VA is available at the official U.S. government website at http://www.benefits.va.gov/gibill.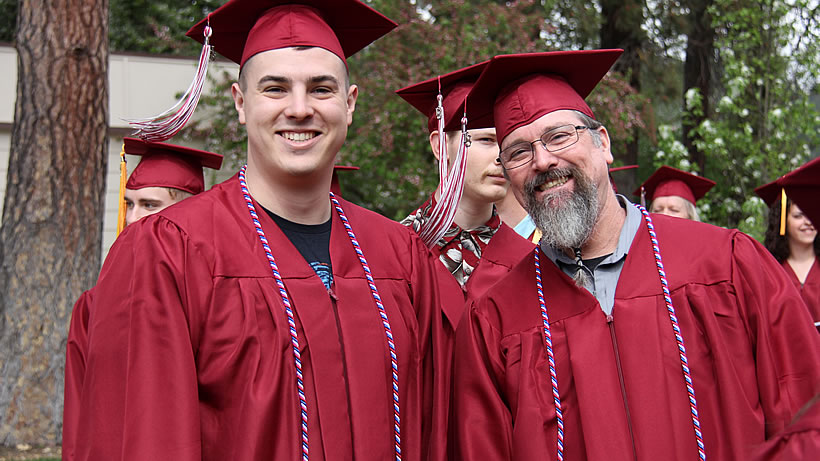 Complete items 1- 4 as soon as possible to prevent enrollment and financial aid delays.
Apply for admissions.

If you are a veteran, be sure to mark yes on the question "Are you a veteran?" If you – or your parent or spouse – have separated from the military within the past three years and recently moved to Idaho, a DD214 could establish residency. Request military service records here.

A Certificate of Residency may be required if you are an Idaho resident not living in Kootenai County

Submit Transcripts.

Request official copies of high school/GED® and college transcripts. Veterans must request their Joint Service Transcripts or military training records. Order Army, Navy, Marines or Coast Guard transcripts here. Order Air Force transcripts here.

Complete the Free Application for Federal Student Aid (FAFSA)

It is highly recommended that you complete the FAFSA. VA Education Benefits and Federal Financial Aid are two separate programs – you can apply for BOTH.

Though FAFSA, you may qualify for grants, loans and scholarships or you may be eligible for work-study employment at NIC, but you must apply! Typically, this is a six-week to eight-week process to complete.

For more information about FAFSA, contact the NIC Financial Aid office.

Apply for VA Education Benefits.

Apply for VA Education Benefits here. The VA can take up to four weeks to process initial applications. Once processed, you will receive a Certificate of Eligibility (COE), and you must provide a copy to us after you are registered for classes. If you have not received your COE but have applied for benefits, provide a copy of your DD-214 and an acknowledgement of VA Education Benefit application submission.

If you need assistance determining which VA Education Benefits applies to you, contact NIC Veteran Coordinator Kecia Siegel at (208) 769-3281.

Be knowledgeable of your VA Education Benefits and your program courses, outcomes and costs.

Look up NIC on the GI Bill® Comparison Tool to see details regarding your VA Education benefits. Explore and review the training, experience, examination, license and course requirements for your program listed in the NIC Catalog. Know the estimated total cost of your program by using the Financial Aid Shopping Sheet or Cost of College calculator.

Check your postal mailbox and email account.

NIC Admissions will send you a letter or an email (check your SPAM folder) to notify you of your next steps. The most important task to do first is to set up your MyNIC and Cardinal Mail accounts. Learn how to Your Cardinal Mail is the primary means NIC will use to contact you with information about Admissions, Instructors, Advising, Financial Aid, Campus Alerts, etc. You should check Cardinal Mail every day.

Complete English and Math Assessment Requirements.

You can complete this by submitting any of the following documentation:

ACT or SAT test scores (taken within the last four years).
Official transcripts of qualifying college coursework in English/Math.
Completed the NIC English Assessment online and Math Assessment. You will need your student ID number to complete these.

Complete NIC Orientation.

New Student Orientation can be accessed through your MyNIC portal and covers campus geographic orientation, campus resource information, student and technology support services, financial aid and much more.

Complete NIC Advising Profile Sheet.

Completing the worksheet will better prepare you and your advisor for your initial advising appointment.

Check out NIC Career Services.

If you are not certain of your career or educational goals, we strongly encourage you to consider taking advantage of a workshop or Interest Assessment from NIC Career Services, which are great resources to help discover your purpose.

Apply for Scholarships.

Find for Veteran and Military Family scholarships here.
NIC Foundation Scholarships are also available to many NIC students. You can also apply on your MyNIC account under Bookmarks and NIC Foundation Scholarship Application.

Schedule an appointment with a member of the Veteran and Military Family Services Team.

New students cannot register for classes until they meet with an advisor. At this appointment, you will create an education plan and register for classes using the Self-Service registration system accessed through the MyNIC portal. If you are using VA Education Benefits, you can complete the process at this appointment. Be sure to bring your Certificate of Eligibility or statement of your VA Education benefits from your eBenefits account.

Complete Advising Feedback Survey

Complete this survey to help our Advising Services team continue to meet student's needs during the onboarding process.

Prep for Classes – Books / Parking Permit / Student ID / e-Learning

Bookstore information is listed for each of your classes under those classes in your Plan and Schedule listing in your MyNIC Account. You can also visit the Cardinal Bookstore online or in person in the Edminster Student Union Building where they can find your required books with your Student ID.
Parking Permits and Student IDs can be ordered online and obtained through Cardinal Central. With many classes having an online component, be sure to look at NIC eLearning resources too.

- Parking Permits
- Student IDs: CARDINAL CARD
- Cardinal Central
- NIC eLearning: CANVAS