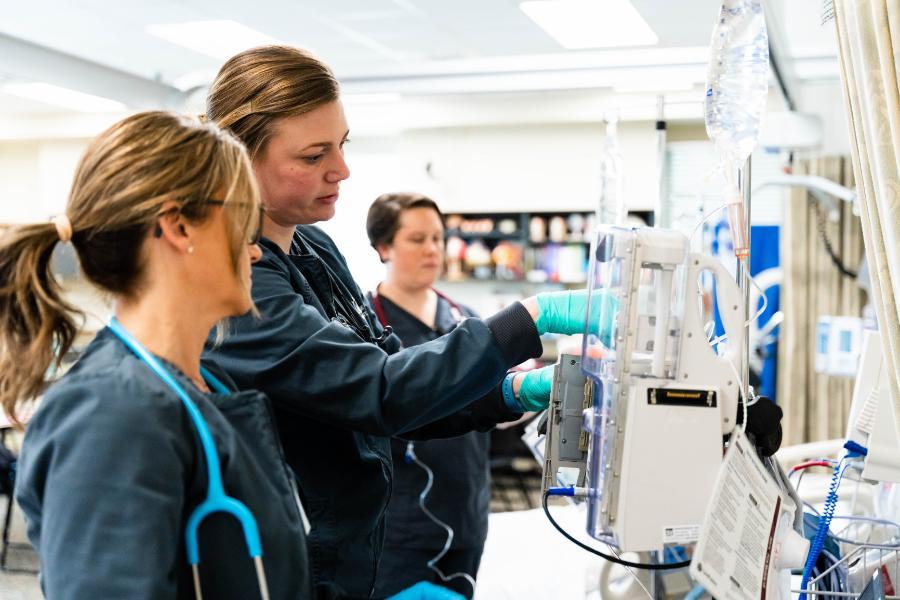 There are a variety of healthcare-related training courses to start a career in the medical field. The courses offered lead to an industry-recognized credential in high-demand health care roles. Many of the courses lead to entry-level employment and open up a clear pathway for career and educational progression.
Healthcare Programs
Do you desire to be at the top of your profession and give high-quality care to your patients? Upgrade your skills and earning potential by advancing in a specialty field:
Earn your state-recognized certificate that is required for any caregiver to assist with medications in an assisted living or in-home care setting. Learn essential skills to safely assist residents or clients with their medications. This certificate does not transfer to other states.
This course is required for any unlicensed assistive personnel who is delegated the task of assisting with oral, topical, suppository, ear drops, eye drops, nasal, gastrostomy tube, or pre-mixed inhaled medications. This program is targeted for individuals who care for clients in a home or assisted living setting, but is beneficial to anyone assisting with medication. Reading medication instructions and labels is a critical skill to safely practice in health care.
Start your career in health care as a Certified Nursing Assistant. You will be prepared to enter the workforce as a health care professional and for the state exams required for placement on the Idaho Nurse Aide registry. This is an ideal program for pre-nursing and pre-med students too. The class components include online assignments, class skills practice, and clinical experience at local healthcare facilities. The course includes a customized lab manual, professional guest speakers, Customer Service in Health Care certification, CPR certification, and a comprehensive list of employers ready to hire.
Choose an exciting and challenging career in dental assisting. Dental assisting is one of the fastest-growing occupations. Through a competency-based learning approach, you will gain essential skills to enter the dental assistant profession.
This program will prepare you to sit for the American Medical Technologists (AMT) registered dental assistant (RDA) certification exam.
Earn while you Learn in this accelerated program for current healthcare professionals who are entering into a paid apprenticeship. Achieve clinical and administrative skills necessary for this high-demand career. North Idaho College-Workforce Training Center provides the related knowledge and skill instruction in partnership with your employer who provides on-the-job training as a medical assistant apprentice.
Must be employed in a medical facility and have someone available to be a preceptor. Must be 18 years or older to sit for the NHA CCMA exam.
Step forward with your medical office aspirations by choosing a course that is relevant in today's dynamic medical industry through the NIC Workforce Training Center. This course will teach you how medical administrative assistants are versatile and valuable healthcare team members who handle a broad range of duties.
Upon completing this course, you should be well prepared to find your place in this rewarding healthcare career. You will be prepared for the Certified Medical Administrative Assistant national certification exam offered. by the National Healthcareer Association and receive a voucher that covers the exam fee. You will also be able to choose a voucher for the professional certification that best aligns with your interests and career goals related to medical billing and coding.
Prepare to provide care for the unique needs of people with mental illness, dementia, and/or developmental disabilities under the direct supervision of the mental health professional in the Mental Health Certification Program.
Do you want to be an advocate for suicide prevention? Consider an additional certification in Adult Mental Health First Aid or Youth Mental Health First Aid.